Engineer:
licensed Florida PE # 71092
10 years experience in engineering
BSCE from FAU with 3.67 current gpa
Continuing participation with design for Habitat for Humanity
Participation in 2008 Tilt-Up conference
Fortified certified
Engineering software proficient
CAD design software proficient
Project examples:
Fountain's of Stuart- ('08) a multi building collaboration for engineer of record services. Tilt-up wall panels, slab on grade foundation, and metal joist and deck roof. Design of an expansion joint for a girder wall connection.
Gold Coast Distribution- ('07) a distribution warehouse design including insulated tilt-up wall panels coordinated with a metal frame building.
Fire Rescue- ('06) a 52,000 sq. ft. 2 story logistical facility for the Broward fire rescue. Tilt-up reinforcing; collaboration between tilt-up, metal framing system, double T, and pre-cast joist. Innovative design of entry panels.
Cornerstone- ('06) a 5 story office facility involving tilt-up reinforcing with large garage level openings and storefront windows.Structural support of large rooftop architectural feature.
Ocean View Crest- ('05-'06) three story RWS with filigree and wood truss floor. Also involved scheduling and design collaboration issues as well as field inspections.
Peacock- (12/05) a 25,000 sq. ft. 1 story tilt-up and frame roof warehouse building. Designed and produced structural drawings and designed tilt-up panel reinforcing.
Inlet Bay- (7/05) a 12,000 sq. ft. 1 story masonry warehouse. Designed and produced structural drawings.
Providing: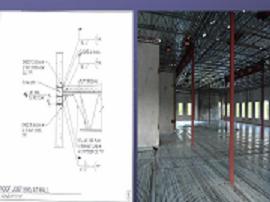 Design drawings and calculations
Remodel or addition design
production shop drawings
consultation and review